Correspondence with Miss E. French and Mr. Bartlett
The following is a January 18, 1911 letter from George S. Stewart in Massachusetts to Miss Elizabeth French in London:
Transcription by Teresa Rust:
"46 Floral St. Newton Hlds Mass
Jan. 18, 1911
Miss Elizabeth French,
#6 Haymarket, London, S.W.
Dear Madam,
The following quotations from the Journal of the House of Commons under date Feb. 3, 1652, will I trust prove of some interest to you as a genealogist.
"Ordered, That the Council of State do take into consideration what prisoners of the Scottish nation have been taken during these wars, either in England or Scotland; and to make an exact list of them, and how they have been disposed of, and where they now are; and report the same to the Parliament with all speed" Com. Jour. Vol. 7 (1651-1659) p. 254.
I do not need to tell you how important this list would be to those interested in American pedigree work, as it is well known that at Dunbar (1650) & Worcester (1651), were sold into temporary slavery in New England & Virginia.
I am at this time particularly interested in 150 of the Dunbar prisoners who were embarked at Newcastle in Nov. 1650, consigned to John Bex & Joshua Foote, merchants of London, & whose"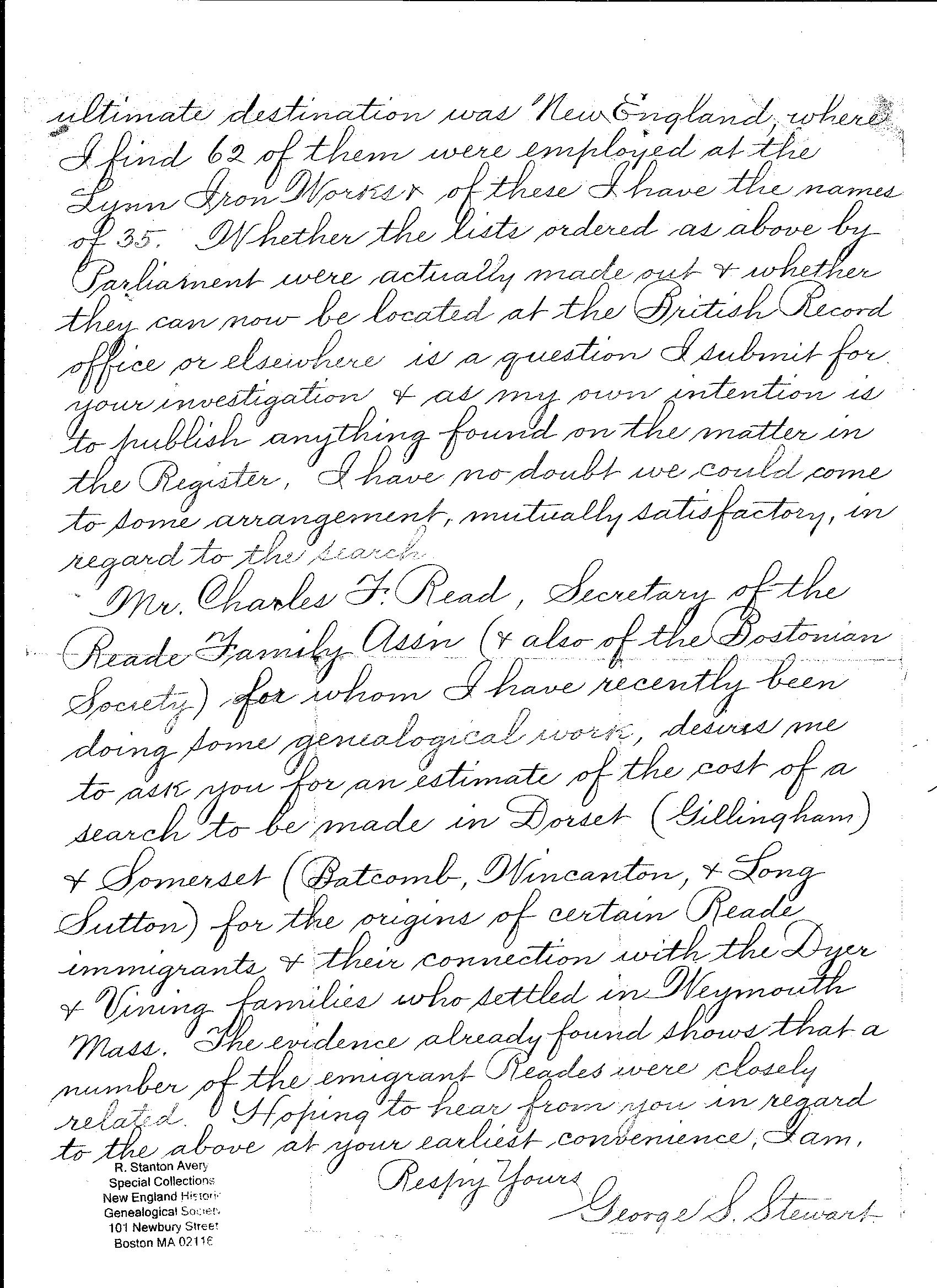 "ultimate destination was New England, where I find 62 of them were employed at the Lynn Iron Works & of these I have the names of 35. Whether the lists ordered as above by Parliament were actually made out & whether they can now be located at the British Record office or elsewhere is a question I submit for your investigation & as my own intention is to publish anything found on the matter in the Register. I have no doubt we could come to some arrangement, mutually satisfactory, in regard to the search.
Mr. Charles F. Read, Secretary of the Reade Family Ass'n (& also of the Bostonian Society) for whom I have recently been doing some genealogical work, desires me to ask you for an estimate of the cost of a search to be made in Dorset (Gillingham) & Somerset (Batcomb, Wincanton, & Long Sutton) for the origins of certain Reade immigrants & their connection with the Dyer & Vining families who settled in Weymouth Mass. The evidence already found shows that a number of the emigrant Reades were closely related. Hoping to hear from you in regard to the above at your earliest convenience, I am.
Resp'y Yours George S. Stewart"